Profile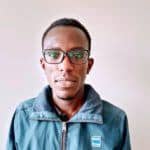 John Njogu
Candidate CV questions (extra)
Education:

I went to Aquinas High School and Jomo Kenyatta University of Agriculture and Technology

Qualifications:

BSc. Applied Bioengineering

Work History:

KALRO, IBR, ICIPE, KEMRI and JTL

Current Job:

Currently I am studying and I also work as a DSA at JTL

Employer:
Favourite thing to do in my job: Discovering new things

About Me

I am a unique scientist because I endeavour to educate myself in both hard and soft skills that would be rendered valuable in work.

Read more

I currently live in Nairobi, I am a member of the African Society of Bioinformatics and Computational Biologists and also a member of the Bioinformatics hub of Kenya. I love going out, taking nature walks and also having fun.

My work

Currently I am learning about precision medicine

Read more

Currently I have been working on COVID-19 research aiming at studying the genetic risk factors that may predispose one to get the disease. Hopefully once we finish we will publish the research and make it available to everyone in the world.

Long term I am looking for a way of reducing cancer infections that arise from viruses by looking at the viral genomes.

My Typical Day

Meet clients then study in the evening

What I'd do with the money

I would use it to fund the journal that we are currently writing

Read more

If I won the money I would use it to fund the journal that we will write inorder to communicate the science and avail the information and make it accessible to everyone in the world.
My Interview

How would you describe yourself in 3 words?

Inquisitive, curious, Introvert

What was your favourite subject at school?

Chemistry

What did you want to be after you left school?

I wanted to be a Telecommunications Engineer

Were you ever in trouble at school?

I used to struggle waking up in the morning for preps 😂

If you weren't a scientist, what would you be?

If I was not a scientist maybe I would be an Art Teacher

Who is your favourite singer or band?

Shai linne

What's your favourite food?

Ugali beef and some Avocado🥑

What is the most fun thing you've done?

Playing football has always been fun

If you had 3 wishes for yourself what would they be? - be honest!

I would wish scientists to be acknowledged and appreciated more. I wish I would be able to communicate effectively especially to people who have impairments and also in different languages. I would also wish to meet meet God

Tell us a joke.

Apparently I am not usually good at jokes
---
---
---